The new A3 Pro is a high-performance and functional 6-axis gyro and stabilizer designed for R/C airplanes. This gyro can be used with nearly any size and type of R/C airplanes and it will make the flying even easier and comfortable.
32-bit MCU, high-precision 6-axis MEMS sensor, improved hardware platform and new firmware solution provide more reliable performance.
6 flight modes, including Gyro-Off mode, Normal mode, Trainer mode, Atti-Lock mode, Auto-Level mode and Auto-Hover mode.
3 wing types: standard fixed-wing, delta-wing(flying-wing), v-tail.
Compatible with most standard receivers, standard PPM single-line receivers and Futaba's S.Bus and S.Bus 2 receivers.
Separated basic gain adjustment for aileron, elevator and rudder.
Remote master gain supported.
Sub Trim and Travel Limit settings supported.
Function Menu
To access the Function Menu, press the button down and don't release it until LED lights solid White.
---
Setup Menu
The Setup Menu contains 7 setting functions which cover all parameters of the gyro you may need to setup. To access the Setup Menu, press the button down and don't release it until LED starts flashing White quickly. (FYA: Don't release the button when LED turns solid White yet, or you will get into the Function Menu but not the Setup Menu.)
---

Receiver Menu
The Receiver Menu allows you change the receiver type and program the channel mappings for all input channels. To access the Receiver Menu, press and hold the button while turn on the receiver power supply, release it when LED lights solid Violet.
---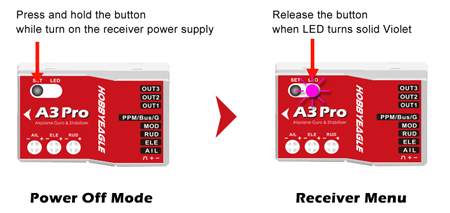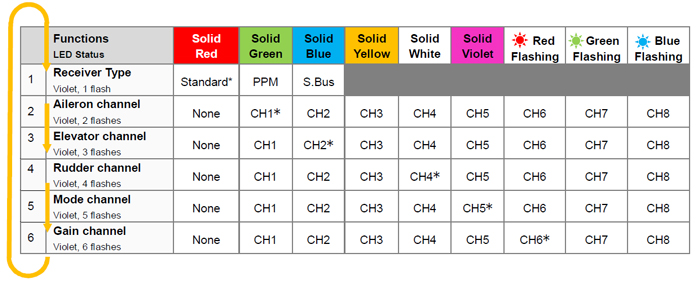 Main Controller:

32-bit MCU

Sensor:

High-precision MEMS 6-axis sensor

Gyroscope Scale Range:

±2000 dps

Accelerometer Scale Range:

±4g

PWM Output:

920uS to 2120uS with 1520uS center length / 50 to 333Hz

Input Voltage:

4.8V to 8.4V

Operating Temperature:

-10 ℃ to 50 ℃

Size:

43x27x14mm

Weight:

10g (excluding wires)