CRSF is a high bandwidth, low latency digital serial protocol designed by Team BlackSheep, supports bi-directional transmission, designed primarily for high-speed data transmission between a receiver and other devices. The open source radio system ExpressLRS also uses CRSF on their receivers. By updating the latest firmware V1.6, A3 Super 4 and A3 Mini can support CRSF now and allow you to connect the gyro to a TBS or ELRS receiver with one single wire.
Receiver Wiring
---
Connect the TX, VCC and GND pins to [Serial RX] of the gyro, as shown below. The RX pin is not required to connect because the gyro will only parse the channel values from the receiver but never transmit any telemetry data back to it. The pass-through channels (AUX1 or AUX2) can be used to output throttle signal for the ESC on any output pins of the gyro (the default is OUT5). Both the receiver and the gyro will get the power from the ESC.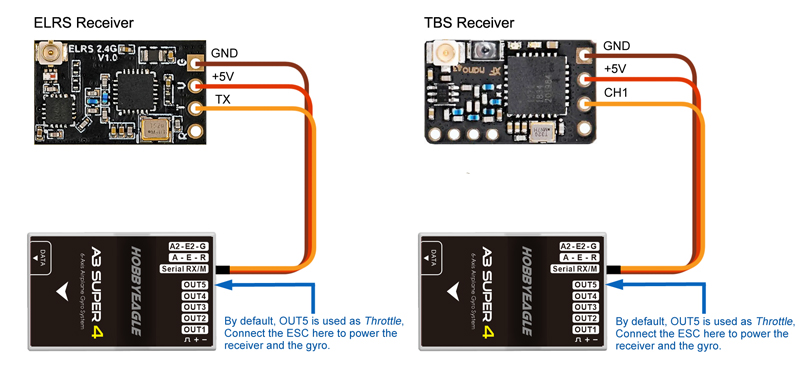 Gyro Setting
---
Download the latest A3 Configurator (V1.2.3 or later), or upgrade the Program Card X to the latest version (V1.6 or later), change the receiver type of the gyro to "Serial Digital Receiver->TBS/ELRS CRSF" mode and setup the channel mapping to match the channel order of the transmitter, then restart the gyro to make the new settings take effect.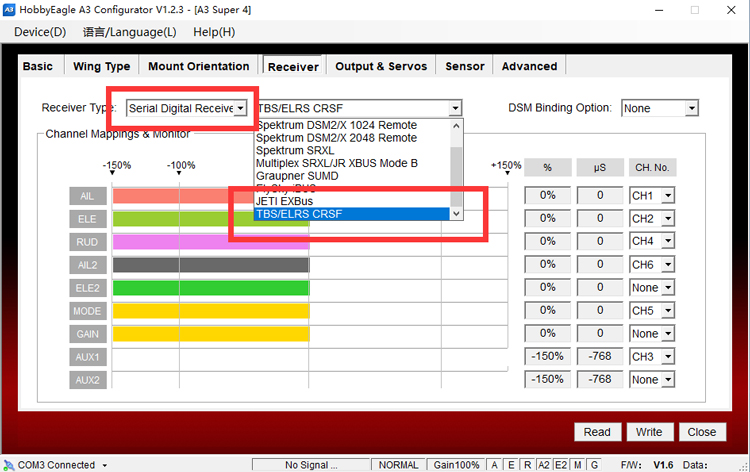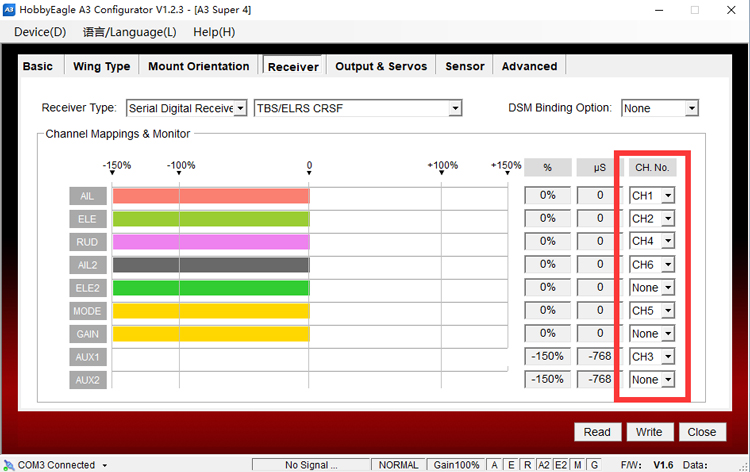 Important Notes
---
On a TBS receiver, the pins CH1 and CH2 can be configured to output multiple protocols, such as CRSF, PPM ,SBUS, etc. Please check the output configuration of the receiver first if you are having trouble getting it to work with the gyro.
ELRS supports a high update rate of up to 500Hz, which may probably increase the burden of the gyro, 250Hz or a lower rate is recommended to use.
Most TBS and ELRS receivers will cut off the signal when failsafe happens, this will force the gyro to enter its failsafe mode, the gyro will output a certain position which was calibrated at startup for all channels, including the pass-through channels AUX1 and AUX2, so always keep the throttle stick at its lowest position before power on the gyro.
In most cases, the channel 5 of a ELRS receiver is designed as a 2-position arm switch (See the official instructions) and is not the best for controlling the flight mode of the gyro, you might need to choose ch6 or other channel to meet the requirement of 3-position mode switching.